Website Trends & Best Practice Tips
Website Trends & Best Practice Tips
1. Video
Motion is a crucial part of storytelling and user's demand for video content continues to increase. Website users have incredibly short attention spans so video can be used to create engaging experiences whilst also communicating information much quicker.
Videos can be used to explain potentially complex information in an easily digestible format like the video we've created explaining the benefits of animation:

2. Micro Animations
The clue is in the name, micro animations are just small animations, but they can have a big impact on your website's usability.
Micro animations can be used to great effect to guide users through your website by providing visual cues and prompts.

They are also a great way to add some interest to your website!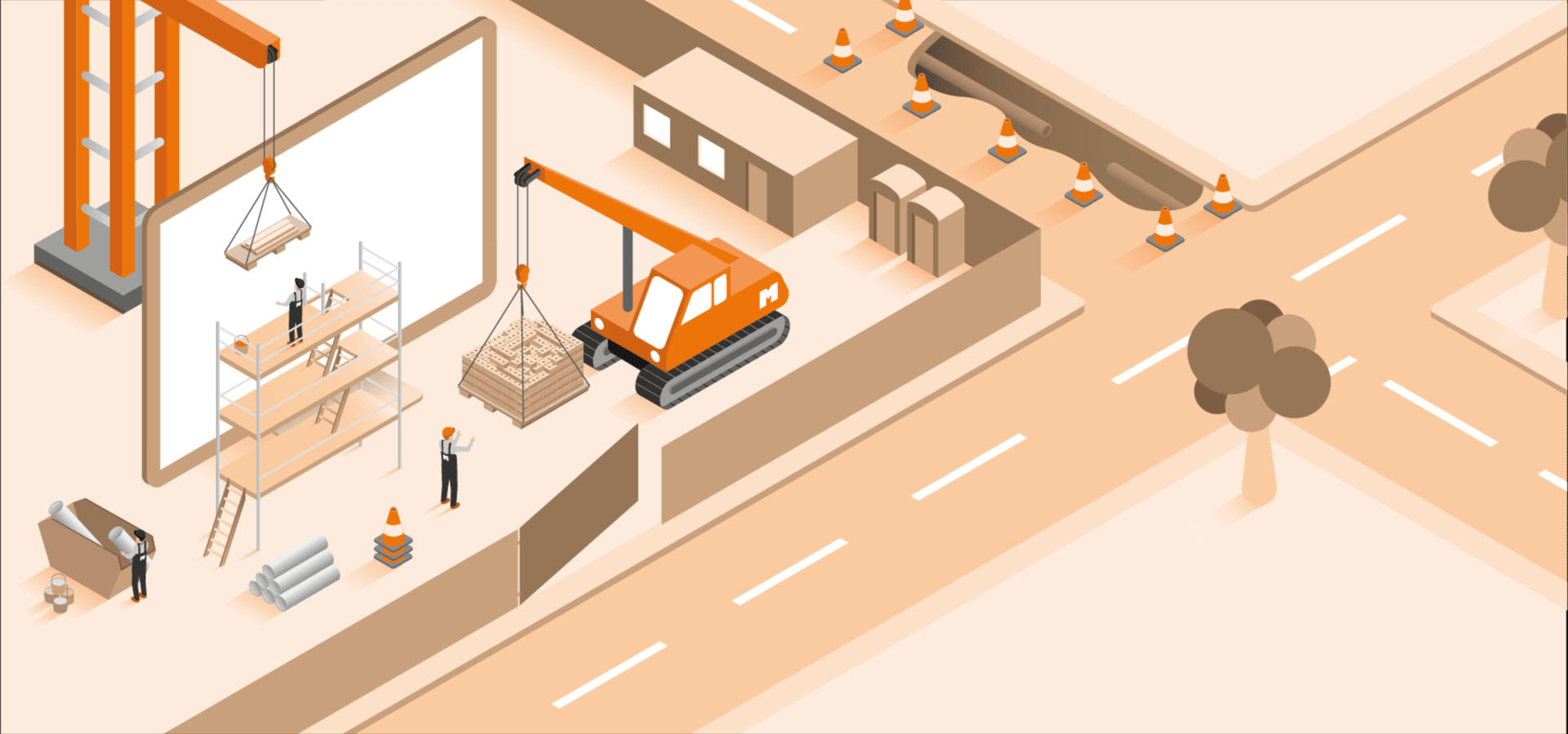 3. Minimalist or Flat Design
Minimalist design is often referred to as 'flat design', this isn't a new trend but has increased in popularity over recent years. There are a number of key characteristics of flat design:
No Effects: Flat design uses a two-dimensional style that is totally flat, there are no added effects such as shadows or gradients which are traditionally used to add depth.
Simplicity: Elements used in website design such as buttons and icons are displayed using simple shapes making them easy for users to interact with.
Typography: Due to the nature of flat design, typography is crucial to add visual interest.
Colour: This is one of the most important features of flat design and the colour palettes used are often much brighter and more colourful.

4. User Friendly Mobile Design
Creating a responsive website which adjusts to the size of a user's screen isn't an option anymore and an intuitive user experience should be provided on all devices.
Thumb Friendly?
Most users on a mobile phone will browse using their thumb to scroll through pages and click on links. Navigation menus, links and buttons should be placed in positions which are easily accessible and sized appropriately.
This helpful graphic shows the thumb-friendly areas of a mobile phone screen: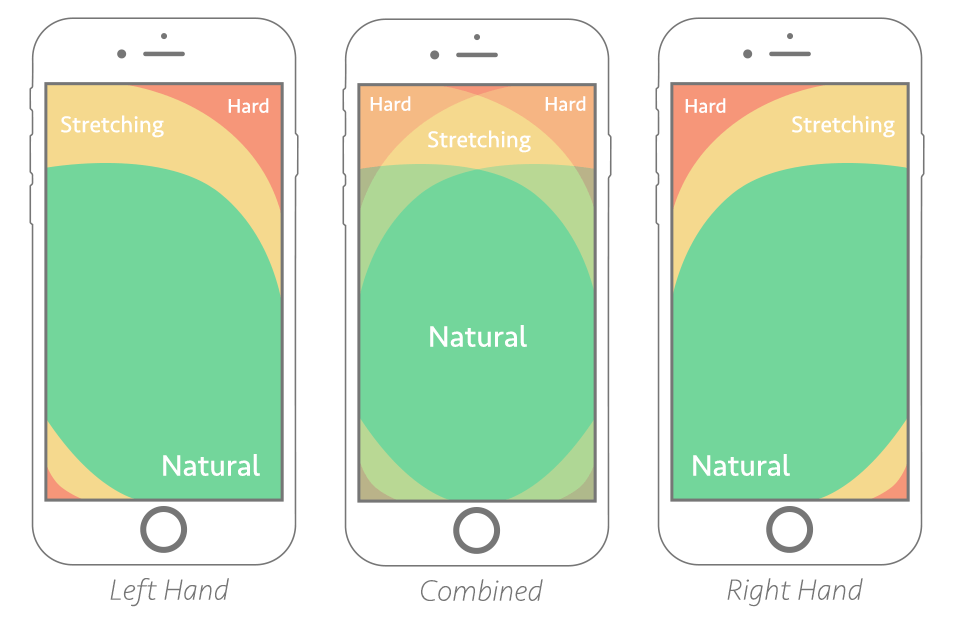 5. Content
The design or look of a website needs good content to help it thrive, which is why the text used on a website is one of the most important factors.
Make it easy to read
Chunking is the presentation of written content into small pieces of information. Website users will often scan written text to try and find information they are looking for so effectively chunking your content into easily digestible sections with clear headings will help users to scan your content more quickly.
Keep it simple!
Content on your website should be kept informal and easy to understand whilst avoiding industry jargon users may not understand. Users are more likely to engage with friendly, informal words than overly corporate language.
A picture is worth a thousand words
Studies have shown we remember only 20% of what we read but around 80% of we see. Using images to supplement written text, infographics to explain information graphically or video and animations to show rather than tell can all help to improve content engagement.

6. Performance
The speed of your website should be regularly analysed and reviewed to ensure your site loads as quickly as possible.
Check your load speeds
Google provide this free tool allowing you to test the speed of each page on your website. It will also provide recommendations and advice to improve the speed of each page on both mobile and desktop.
Optimise your image sizes
Images with large file sizes are one of the biggest culprits for slow loading webpages, often images aren't compressed or resized before they are added to a webpage.
'Lossless' compression is the process of reducing the file size of an image without any quality loss by removing unnecessary meta data from the image.
'Lossless' image compression can reduce the size of images by around 20% – 80%!
Optimise your websites code
Minification is the process of removing all unnecessary characters in the code which powers a website such as spaces and line breaks. This reduces the overall length of the code to help improve load speeds.

7. Website Health Check
We've created a free website Health Check guide to help you evaluate your current website and identify where improvements could be made.

Need some expert advice?
Get in touch to see how we can help you get the most from your website.
Seven benefits of Digital Publications

What if… your website users were animals!
What if… your website users were animals!
Understanding how users behave on your website is vital to improving its performance and increasing ROI. We took a walk on the wild side to understand different user behaviors and how we can help them…
The lost Meerkat

Pops their head up in weird places that search engines have suggested, they're interested have clicked through to your website but aren't entirely confident where they should go from there.
Help this type of user with well-structured content to help them find what they are looking for quickly, provide clear signposts to related content on your top landing pages, ensure calls to action are clearly visible and labelled intuitively.
The impatient Cheetah

Got fed up waiting for a page to load and left your website or abandoned a form halfway down, they are looking for speed and efficiency.
Help your impatient Cheetahs by optimising your page load speeds, compress large images, minify your CSS and HTML and ensure forms only ask for information you really need.
The nervous Zebra

Looking for information in black and white, they want to understand the options available or have help on hand immediately should they need it.
Consider providing clear, concise information to reduce page lengths, provide live chat to field support enquiries or clearly visible FAQs and contact details.
The trendy Tiger

Wants to be impressed, if it's not interactive, engaging or interesting, they'll probably leave to find one that is!
Use animation, videos and interactive elements to present your content to keep users engaged with products and services.
The easily distracted Goldfish

Not really sure what they are looking for, often caught wandering elsewhere and distracted easily. Probably overwhelmed by lots of content and multiple calls to action on the same page.
Provide these users with a structured page hierarchy which adheres to content best practice such as chunking, alignment and clearl headers to break up lots of content whilst ensuring a consistent call to action is used throughout to avoid distractions.
Evaluate your own users
You'll probably have a mixture of these users visiting your website, but that's not a problem! Using Google Analytics data will help you understand what is and isn't working for your users and consider implementing some changes to accommodate each user type.
Looking for more advice and expertise? We are an independent creative agency, specialising in design, digital and motion in the heart of Manchester! Come and have a chat or see what we've been working on recently.
How can WhatsApp benefit your business?
How can WhatsApp benefit your business?

Want to find out more about how WhatsApp could benefit your business today? Monitor is an independent creative agency who help our clients communicate with impact in ways that are best for their business. Take a look at some of our recent work or get in touch!
Five tips to bring your Annual Report to life!
Five tips to bring your Annual Report to life!
Using a few different techniques and strong visual aids, bring your Annual Report to life!
Is it time to go digital?

Publishing a digital version of your Annual Report offers your readers the chance to navigate the document quickly and interact with key content. It also allows a traditionally static document to become more engaging using animations and embedded content such as videos.
Illustration could fit the purpose

Illustrations provide the opportunity to avoid stock or corporate photography through bespoke graphics. If you need an image to communicate a complex or niche topic illustration allows you to visualise this easily and can also align your brand.
Alongside imagery of real events, teams or the office, illustration can help to strengthen the brand's personality.
A picture says a thousand words

The use of infographics helps give key numbers and stats more meaning. Sure, 1 billion sounds like a lot, but if it's grains of sand, it's not that much! Make sure your reader can process the importance of the data you present.
Combining graphs, numbers and images could breathe life into your Annual Report!
Think about the user journey

A person reading your Annual Report probably has a purpose or objective for doing so, they are hunting for key pieces of information. Providing a clear navigation or contents with clearly labelled titles can really help your readers find what they are looking for.
Stats. Case Studies. Action!

Struggling to showcase the CEO's annual review in all its glory? Using video footage or recorded interviews is great for helping make content easier to digest and more engaging for the reader.
Use animated stats, video quotes and statements to capture your audience's attention.
Just imagine the potential your Annual Report has now!
Monitor is an independent creative agency who help our clients communicate with impact in ways that are best for their business. Take a look at some of our recent work or get in touch!
*Please note that your company's abbreviated reports, or full reports that legally have to be declared on Companies House are not open to unique styling, branding or personalisation (unfortunately!)
Our World Book Day Challenge…
Our World Book Day Challenge…
To celebrate World Book Day we dived into some of our favourite novels and got our creative juices flowing! Taking a variety of different routes to transform and develop some very famous books, characters and settings…
A drool-worthy brochure fit for the Wonka Factory! Have you got a golden ticket…?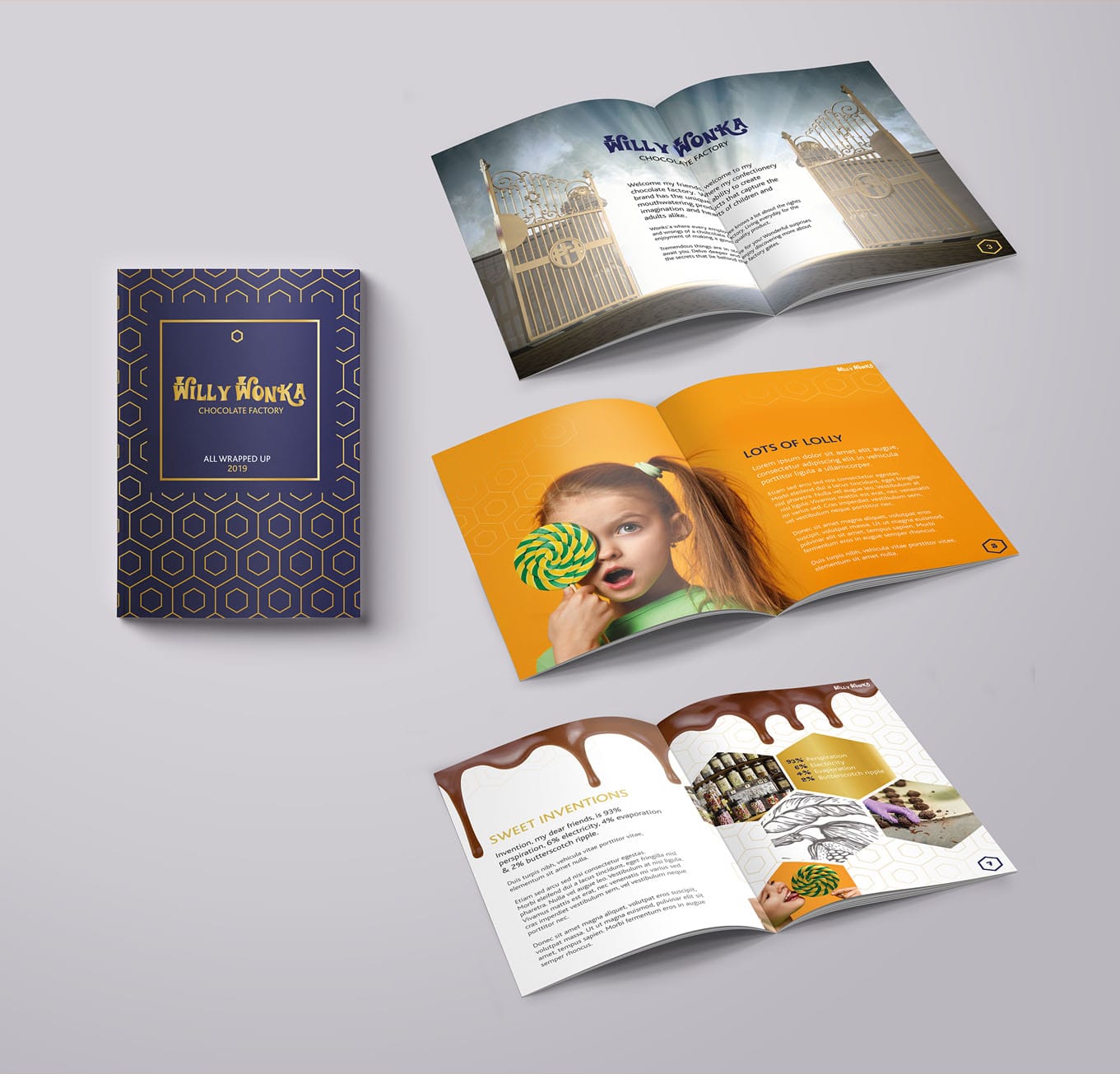 We had a WHALE of a time redesigning some famous characters and delving into our favourite books!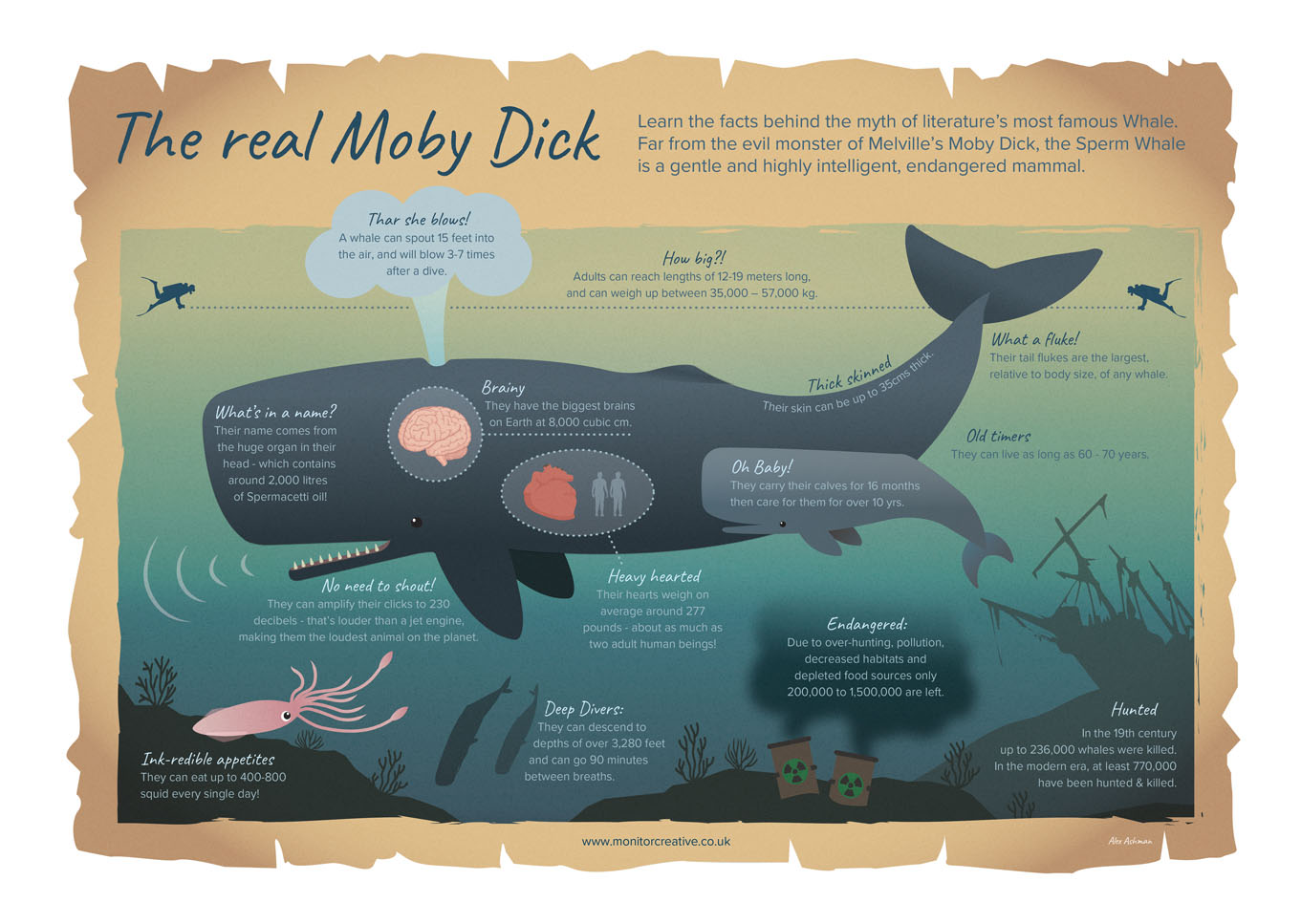 Digital transformation with The Little Prince app…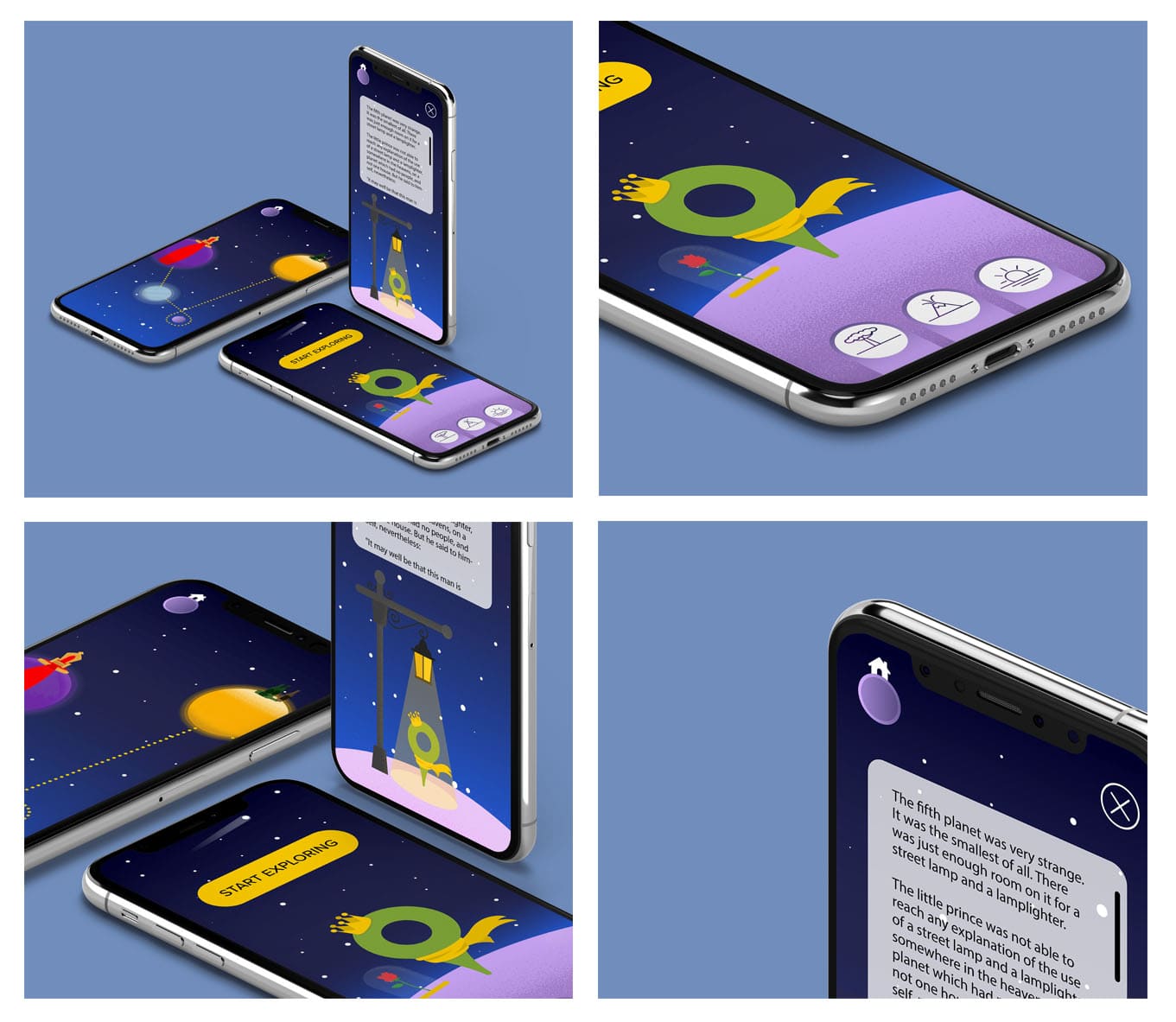 Can you guess the Author?

Monitor is an independent creative agency who help our clients communicate with impact in ways that are best for their business. Take a look at some of our recent work or get in touch!
Logos We Love!
Logos We Love!
What is a logo? A name, initials, personality or a subtle message? Well, as our creative team know, it's all these things and much more…
At the core of every successful company, is a logo and a brand that speaks volumes, it should be versatile and stand the test of time.
Not hitting a creative block and considering all possibilities of a brand is a hard skill to craft. Delving into a designer's brain, our senior creative team share their two favourite logos:
Cheryl McMillan – Creative Director
FedEx
Love a simplistic style of design that conveys a thoughtful message, I'm always attracted to logos that reflect this and have great impact. In particular, the FedEx logo has stood the test of time. Lovely use of negative space to get across a hidden message. Simple, bold. Great use of two eye-catching colours that convey friendliness and reliability. One I remember from university days…
Amazon
Another lovely hidden message in the placement of the arrow between the 'A to Z'. The logo uses simple colours that allow it to work across a huge variety of channels. In recent years the arrow has evolved to act as a smile on their fun animated adverts.

Marcus Barretto – Senior Designer
Planet
I love logos like this, not only because I'm a bit of a geek when it comes to anything space related, but it combines with my other great love, minimalist design. The subtle manipulation of a single letter to create an instantly recognisable mark, is really nimble and inventive. The 'e' can also be used as a stand-alone mark to summarise the brand, when the full logo isn't needed.
The Swan and Mallard Restaurant
I'm still not sure if this is a real restaurant or not but I like to think it is, and that it's full of creatives deciding what to eat from the beautifully letter pressed menu. I like the contrasting use of positive and negative space to create the swan and the mallard with the flash of orange boldly helping them to stand out individually. Having the swan form the ampersand is the cherry on a very considered cake.

Alex Ashman – Senior Designer
Air BnB
They totally redesigned their old logo to create a simple, clean and super versatile new identity, which was specifically built to be used over many different mediums. It works well over video, animation, web, embroidery and even as keyrings. It's designed to be drawn by anyone and has a real DIY feel.
I love that they made their own shape called a 'Belo'. This was created to embody the sense of belonging, as well as creating a universal symbol of Home, which is what they've built their whole brand around. It's a lovely ethos and a brand that has gone from strength to strength because of this huge identity shift.
Slack
A controversial choice, as many creatives have been very vocal about how much they dislike this new redesign. I personally think the redesign is a real improvement from the last logo they had. The previous hash symbol was made up of 11 different colours and didn't work well over other colours, imagery or on physical products. It was inconsistent and didn't work well at a small size.
The new logo still shows the traditional hashtag shape, but now incorporates the idea of conversations and works across different mediums in a much stronger way. It's more cohesive, modern and consistent, and I like it!

2019 Website Design Trends
2019 Website Design Trends

The Importance of Colour in Branding
The Importance of Colour in Branding

Benefits of Illustration in Marketing
Benefits of Illustration in Marketing
Let your pictures do the talking
Stock photos struggle to represent your company, because they're not your company. There are thousands of businesses using stock photos, so why not stand out from the crowd? It really comes down to making your pictures relevant and interesting and you definitely do not want to find out that your competitor is using the same stock photos.
Take look at these bespoke illustrations that we created for Bromleys Solicitors:

Illustrations can be tailored to your branding
The benefit of illustration is that you can develop a style for your business which complements your branding.
If your logo is sharp and modern, you may want to consider using vector-based illustrations. If your brand values are softer, illustrations could have a hand-drawn style to suit.
Check out this infographic we've created which shows all the different pathways illustration enables you to use:

Ability to tell a story
Using illustration, you have complete control over the characters and the scenes you want to portray, helping you build the right visuals for your business and tell the right story.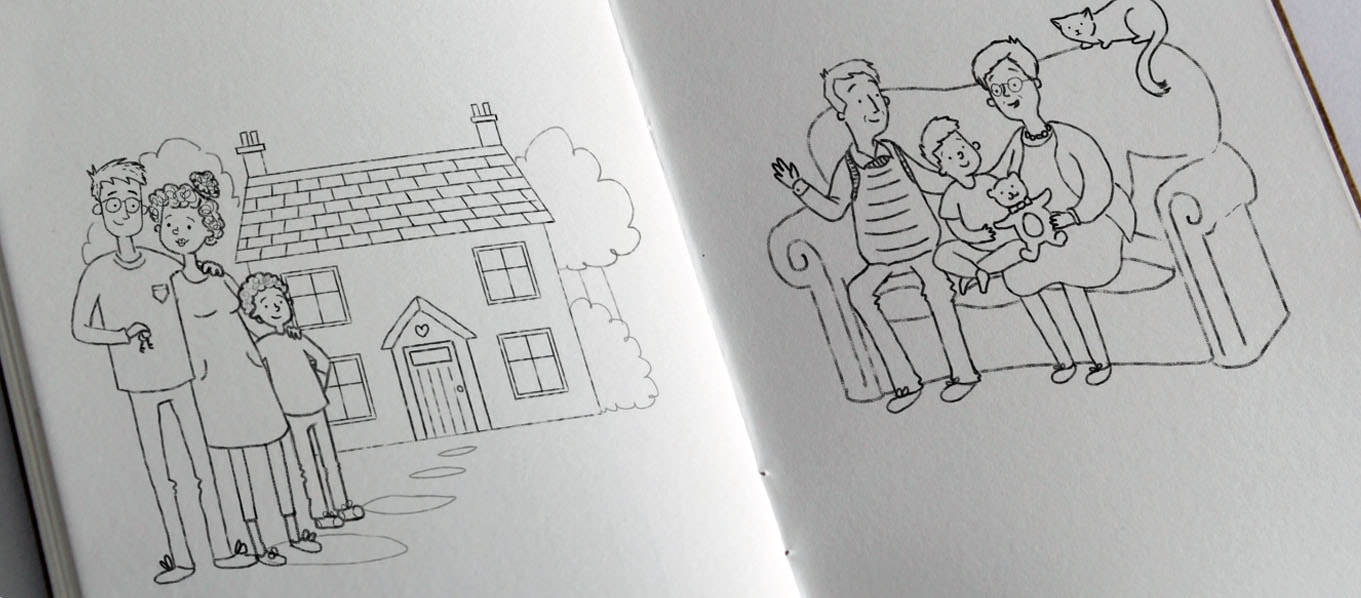 Stand with your audience
Given the different styles and scenes available through illustration, you can market your product, campaign or brand with interests most popular amongst your target audience.
Know that your target audience have a keen eye for science and technology? Geometric, concise illustration will appeal to them far more and get them to engage with your business.
Develop illustrations into animations
We can offer you the flexibility to convert illustrations into animations which can increase engagement with your company's social media channels and campaigns.
Take a look at the animation we created for Markadis Mii-Promo:
Get in touch to find out how our experience and ideas can add value to your brand.