Dubbed by The New York Times as "One of the leading worldwide incubators for new, cutting-edge art", Manchester International Festival is back and set to stimulate the minds of thousands of visitors from across the world in its 18-day dynamic programme of events.
We sat down with the Managing Director of the festival, ex Time Out Marketing Director and self-proclaimed 'organiser', the inspirational Christine Cort.
Within minutes it's clear to see how passionate, articulate and likeable Christine is. From an early age Christine admits she had a "desire to move people around to see the best stuff" and tells us of the mini-bus trips she would organise from her hometown of Blackburn into Manchester to witness the very best in music and culture.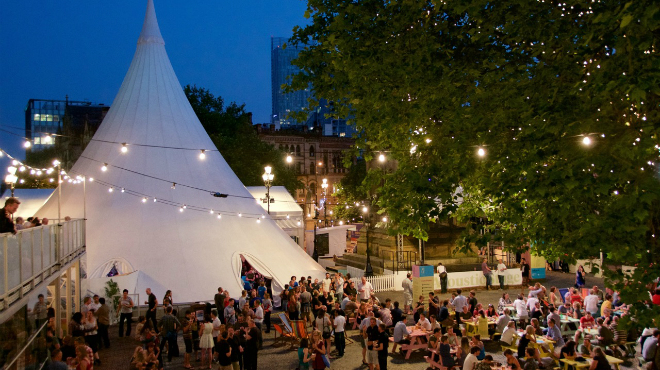 Along with Founding Artistic Director Alex Poots, Christine was fundamental in the birth of the bi-annual arts festival. Having worked at Time Out for 13 years, Christine was 3 weeks into a much-needed hiatus when her good friend Alex approached her with his vision and a job offer. "He kept ringing me and ringing me and eventually I was persuaded."
Their mission was clear. The festival was to focus on "empowering artists to do those things that they've never had the opportunity to do, to help them get off the treadmill they've been on and really see their potential".
You can almost see the ambition oozing out of Christine, "we didn't want to be a festival looking in. We wanted to look out to the world and have the world looking back."
Christine's marketing background shines through as she discusses her primary focus on the MIF brand, its core values and creative properties. Many of the early days, Christine says, were spent in a room with Peter Saville and Tony Wilson teasing out the 'anything is possible' manifesto of the festival.
With ambition comes determination, something Christine obviously has bags of. "I've never been put off by barriers. If I believe in something enough, I can make it happen. That's the core DNA philosophy here." Christine remarks as she goes on to dub her team the "best team in the world."

In the early days of her 5 years at Riverside Studios, Christine tells us of the time herself and her peers organised illegal late-night raves in order to fund the development of a new cinema. Just one example of her get-it-done attitude.
From commissioning the architect to build the famous Festival Square tee-pee to taste testing all of the delicious treats on offer, Christine likes to make sure she's involved in every last detail of the festival. "Last time there was a bloke in his eighties and about four days in a row, he came for a pint and I chatted to him. If you speak to someone, and all they did was sat in a deck chair in Festival Square and a had a pint, that's cool and dandy for me."
To see the full schedule of events for MIF17 go to www.mif.co.uk
Discover Christine's top 5 events to watch out for during the festival