We ventured out to the Northern User Experience & Design conference (NUX) in October and aside from getting brilliantly drawn caricatures, we took the opportunity to hear from speakers at some of the biggest digital brands across the world, here's a few of our highlights.
AMBER CASE – "DESIGNING CALM TECHNOLOGY"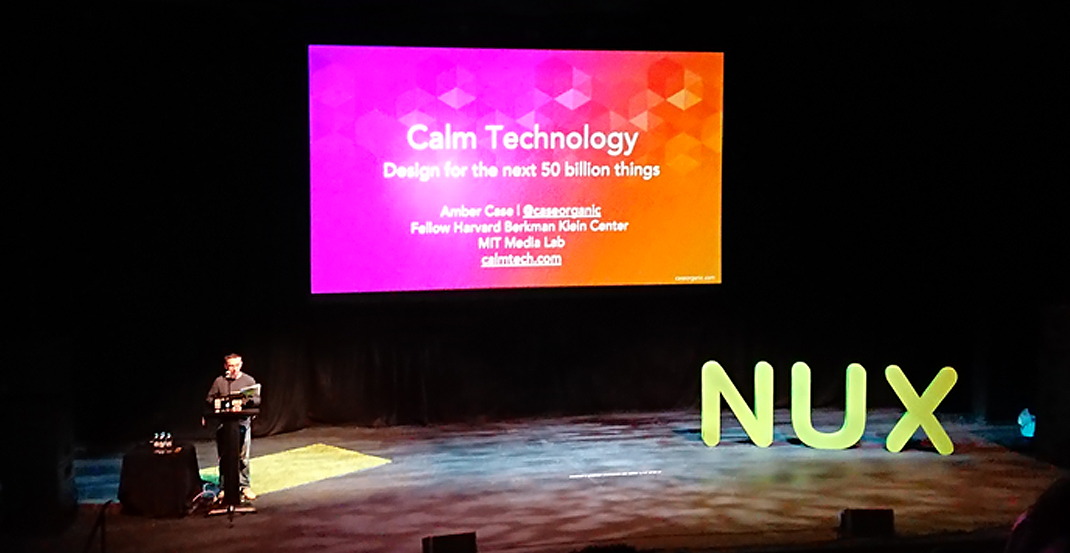 Amber Case, a fellow at Harvard University's Berkman Klein Centre for Internet and Society and a visiting researcher at the MIT Centre for Civic Media, studies the interaction between humans and computers & how our relationship with information is changing the way cultures think, act and understand the world.
• Being human in the workplace should be our primary task before computing
• Technology is, in an ideal world meant to free up our time rather than consume it
• Devices connected to the internet (the internet of things) will reach a jaw-dropping 50 million by 2020
• Designed products that take a minimal amount of attention are the most popular
• Nobody wants to be a system administrator in their own home
Follow Amber on Twitter: @caseorganic
DANIEL HARRIS – "DIFFERENTIATING WITH DESIGN ACTIVISM"

Daniel's mission is to improve society through design. He believes that employing society-led design, can help businesses create sustainable, powerful differentiation in how they connect to their employees and customers. He is a supporter of the power of collaboration to design products and services that sustainably connect in a meaningful way.
• Create BAD ASS humans – Create a brilliant human workforce rather than relying on technology, they will last longer and be able to adapt to their surroundings more.
• Challenge design principles 'Instead of making better photo apps, let's make better photographers'
• Is your service enabling your users to develop?
Follow Daniel on Twitter: @danramble
CRAIG SULLIVAN – "HOW TO NOT SUCK AT AB TESTING AND ANALYTICS"

Craig has been blending UX, Analytics, AB Testing and Insight methods for over 12 years now, optimising outcomes for places like Google, Spotify, Lego, ASOS and the FT. Using a mixture of design thinking, lean, agile, data, experimentation and cultural change, he's driven £3bn in additional revenue for his clients.
• An experience is only as good as its worst part. Design holistically & continually step into users' shoes
• Prioritise any issues that may arise in terms of value
• Always pay for a good copywriter – even to write pop ups and alerts, every word associated with your company is your brand
Follow Craig on Twitter: @OptimiseOrDie
A big thank you for having us NUX, we're already looking forward to the next one!