Following my post on the dangers of automation which focused on an experience using Virgin Trains, this second instalment features the well-known budget airline; EasyJet.
Its common practice now for holiday makers to book outbound and return flights with different operators to get the best deal. Airline operators know this, so why do their communications not reflect this?
I'd booked outbound flights to Crete in Greece with one airline and return flights 7 days later with EasyJet, for the simple reason that it was over £200 cheaper.
Always remain relevant
Now the fundamental problem with automation is making sure any communications retain relevance to the recipient by gathering as much information about them as possible in order to maximise the impact.
Ask the right questions
If a customer buys a one way ticket we can make the assumption they have either; bought an outbound/inbound flight with another operator or don't intend on returning (so probably aren't holiday makers).
Here is the automated email I received from EasyJet once I'd booked my return flights: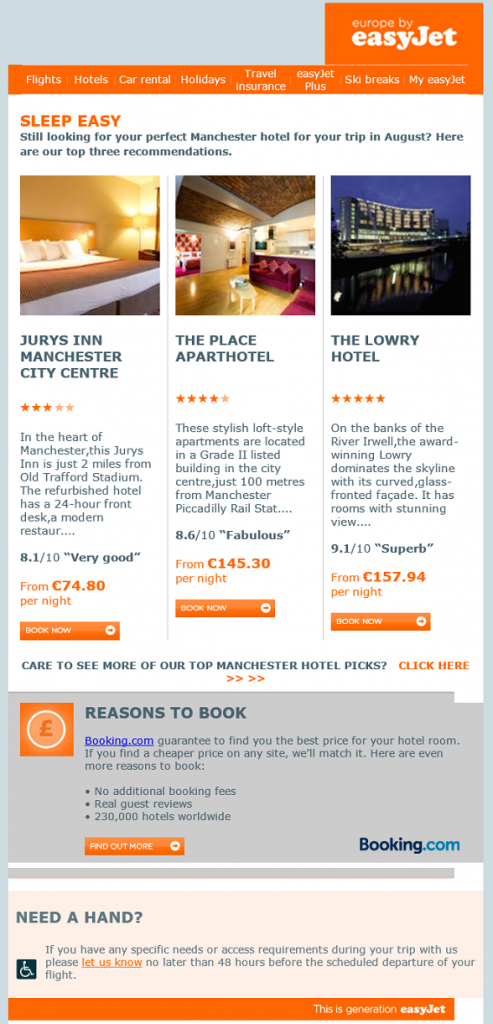 I live in Manchester, and was returning home from holiday, so EasyJet telling me about the great hotel deals in Manchester was totally irrelevant to me, the prices quoted were in euros, and they would have known if I was disabled when booking.
In the same way Virgin Trains could segment their data for same-day return travellers, EasyJet could easily segment their data by asking customers relevant questions about their journey or booking. Their engagement and conversion rates would also look a lot healthier if their messages were more targeted…
How about we share some of our email wizardry with you? Call 0161 743 0980 or email us to discuss your next digital campaign.